Recorder.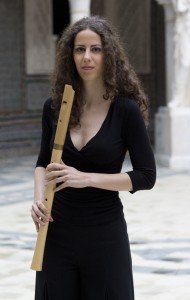 Lobke Sprenkeling was born in 1979 in Holland. She obtained the Bachelor Degree of Music at the Royal Conservatory in The Hague in 2001, having studied the recorder with Jeannette van Wingerden and Sébastien Marq. In 2003, she obtained the Master Degree at the Conservatory of Utrecht, after recorder studies with Heiko ter Schegget. In the same year she received a scholarship from the national Prince Bernhard Culture Fund to study during a year with Pedro Memelsdorff at the Escola Superior de Música de Catalunya in Barcelona.
At the age of 15 she won the first prize in the category of wind instruments at the Competition for Young Musicians of Leiden, and she became semi-finalist in the international youth contest of SONBU Holland. In 2001 she was selected to participate in the project and national tour of the Baroque Orchestra of Ambronay, France. In 2005 she played in the French baroque orchestra Les Talens Lyriques under the direction of Christophe Rousset, in a co-production with the Dutch Opera, performing two operas of Händel in Amsterdam, Paris and Montpellier. In 2008 she played in the Orquestra de la Comunitat Valenciana at the Palau de les Arts in Valencia, under the direction of Eduardo López Banzo, in a production of Händel's opera "Orlando". She has colaborated with La Capella dels Ministrers in medieval programmes and "L'Orfeo" of Monteverdi in Spain and Germany. She also obtained a Master of "Experimental Music and Theatre" at the Royal Conservatory in The Hague, in which theatre and music are combined as one discipline.
In 2012 she obtained her Master of Advanced Studies at the Universidad Politécnica de Valencia, with her research "Dutch Music Theatre, a meeting point between the Performing Arts".
Presently, she collaborates with various Early Music ensembles. She is the recorder teacher at the Conservatorio Profesional de Valencia and she is working at her Doctoral research.